District heating network monitoring
Business needs
Immediately identify any issues in the network and be able to deploy at the right moment a maintenance team in order to avoid any service interuption
Remote metering of heterogeneous meters
Link the metering network to the existing monitoring system
The proposed solution
Owing to the CommonSense IoT Platform, any supported devices (among the supported protocols) can be provisionned into the platform. For this use case, the Tetraedre TRP-11 LoRa CommonSense-ready transmitter has been selected for its performance.
CommonSense IoT Platform enables notably to provision and configure the sensors and modules, connect them to the most appropriate LoRa network, configure business-oriented alarms (on threshold of temperature, consumption etc.), visualize data (temperature curve and energy consumption), monitoring battery levels and Tetraedre module status (on battery) as well as transmit data to external monitoring systems.
Vertical M2M can provide a detailed report on available network coverage for each meter and advocate if necessary several network architectures to cover all sites.
About the device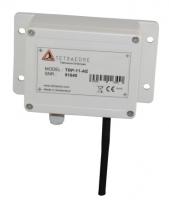 The Tetraedre TRP™-11-LoRa is a radio module capable of reading meter data owing to its M-BUS interface. Afterwards, it sends the message read through the LoRaWAN protocol. The conversion module used is autonomous (on battery). It is therefore not necessary to provide an electrical line to each meters.
Applications around smart metering:
Remote monitoring of waters meters
Remote monitoring of gas meters
energy audit
Industrial process monitoring
Acurate billing